#SNKRRROOMCARES - Breast Cancer Sneaker Auction 2016


As a small business in the extremely busy tri-state area, we strive to make sure we are helping our community! Sneaker Room has donated 35k within the past 3 years to breast cancer treatment & research.

In the past, we've selected a style from Nike ID. Then we created 31 pairs all individually numbered and placed in special packaging. After that we always tried our hardest to spread the word and gain awareness.

Now, after a lot of hard work and dedication our journey has officially gotten notice from Nike.

We are ecstatic to announce our 2016 Breast Cancer shoe in partnership with Nike. We've teamed up with our great friend Victor Cruz from the NYG, who has been a key supporter the past 3 years.

Our Jersey City location has a special in store installation to set the theme and help us spread awareness. We will be hosting a special event for all the winners of the auction to come hang out, mingle & would like to meet Victor Cruz.

This year we will display the "Air Trainer Victor Cruz SR LS" in a "Pink Fire" color way with only 50 pairs made! Starting at size 6 through size 15.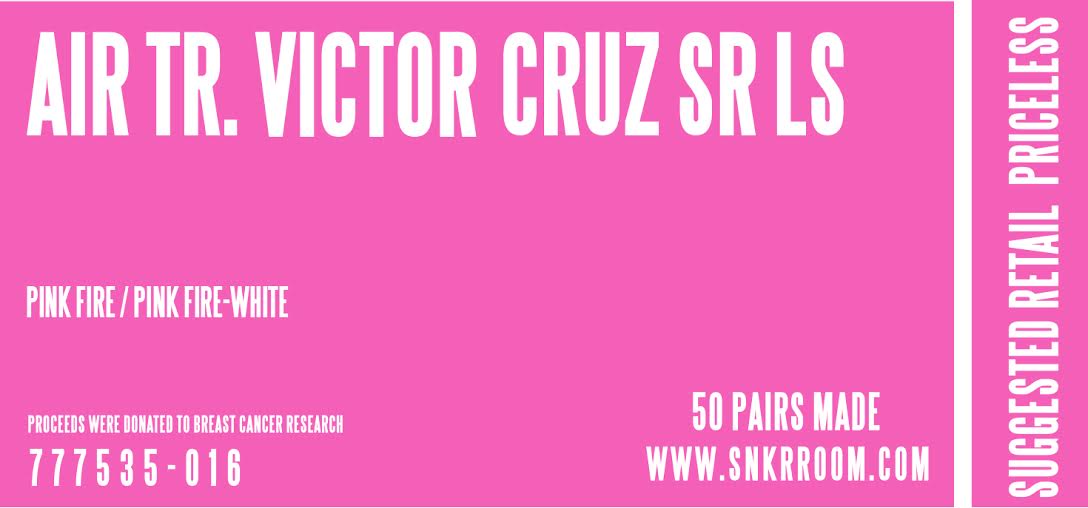 Auctions will start at $1,000 or you can buy it now for $2,000. All inquiries and bids please contact snkrroomcares@gmail.com.

Join us on our #SneakerRoomCares journey in using sneakers to make a difference!